General Information
Company Information
Headquarter :

United States

Regulation :
Back to Top
Review
Please note that the Zantrio has not provided Forex signals since 2012 and the website was purchased by a construction company that has absolutely no connection to the signals site. All reviews below are for the now-defunct Zantrio signals service and have no relation to any other companies with a similar name.
As of September 2012, Zantrio trade will no longer be providing signals or other services.
I was recently tasked to test out the Zantrio trade signal service and write a review based on my experience with the Zantrio interface. Zantrio offers much more than just trade signals, in fact, they offer an entire community for the trader to explore. They offer news and commentary, trading tools, blogs, videos and an entire forum. Zantrino's community is quite extensive and I found it a bit overwhelming, however, I was not asked to explore their community, I was asked to check out their trade signal service.
To access the trade signals you must log into the Zantrio Website. Once logged in you are in the Members area where you will see a choice of various types of trade signals you can access from their Services & Products section. They offer Stocks, Forex and Futures trade signals for both the Day Trader and the Swing Trader. I trade exclusively Forex and my personality is that of a Swing Trader so that is the service that I tested. Accessing the trade signals of your choice is simple, just click on the appropriate link.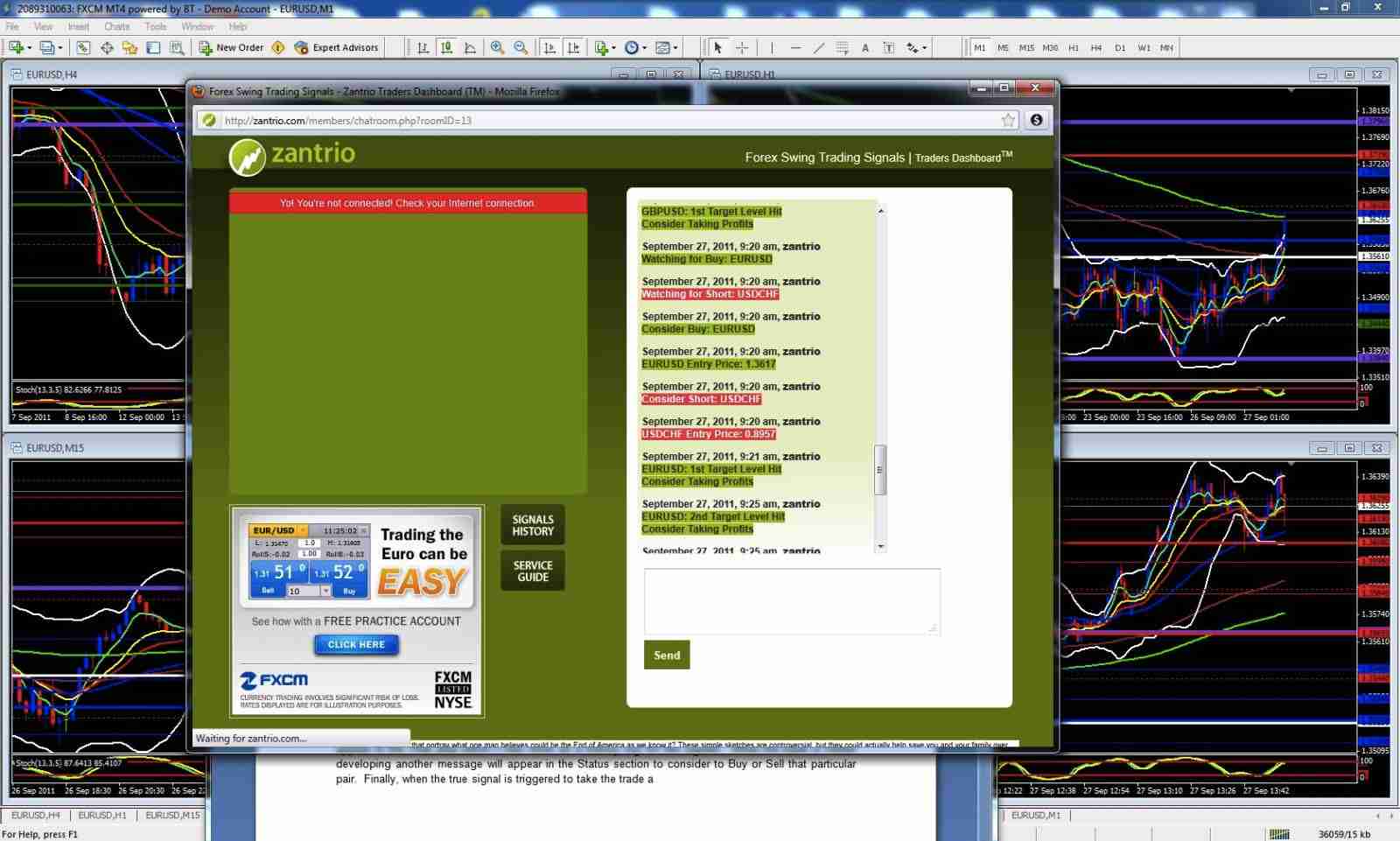 When you click on your selection what appears to be a typical everyday chat room is what appears. In the users list you can see other members that are in the room and in the main body where the chats appear are trade signal notifications and status. On the left side of the chat interface is what they refer to as a Watch List. When conditions of a possible trade opportunity presents itself it is posted in the Watch List. It starts out with a Status message stating for example: Watching for Buy or Sell for that particular pair. This is how they inform their members a move just may be developing. This message will also appear in the Chat area which I view more as a history log for the signals. When the trade is further developing another message will appear in the Status section to consider to Buy or Sell that particular pair. Finally, when the true signal is triggered to take the trade a message appears in the Status Open with an entry price and an Up or Down arrow representing which direction to trade the respective pair. By the way, if you step away from your computer be sure to turn up the volume since various sound notifications go off in case you step away.
Now, the good stuff, moving on to the actual signal quality. Mixed results. Some trade signals were accurate and some were false. I guess you can't win them all. I am not sure if I agree with their risk to reward ratio. I noticed that their trades always have three goals and the first goal is usually ten pips from, entry with a stop loss thirty pips below the entry so they are risking 30 pips to reach the first target of ten pips. This system seems to be more scalping than anything else. On some of their trade calls win or lose I did not always see a technical reason to enter the trade even though it made the first target.
Zantrio Forex trading signals are given for most majors: EUR/USD, GBP/USD, GBP/JPY, USD/CAD, USD/CHF, USD/JPY, among others on occasion. The service provides signals from Sunday to Friday evening (24/5). Expert moderator coverage in the premium version chat room is offered between 8am to 4pm ET.
In the end, I just advise you to try it out for yourself. They offer a two week free trial, plenty of time to determine whether or not it's for you. I advise people to test this service themselves and do it on a demo then decide for yourself. It is definitely worth trying.
Back to Top
User Reviews
Did you have a good experience with this broker? A bad one? Tell our team and traders worldwide about your experience in our User Reviews tab. Your email address will not be posted.
Please make sure your comments are appropriate and that they do not promote services or products, political parties, campaign material or ballot propositions. Comments that contain abusive, vulgar, offensive, threatening or harassing language, or personal attacks of any kind will be deleted. Comments including inappropriate, irrelevant or promotional links will also be removed.
Back to Top