Review
FinPro Trading is a "self-regulated" Forex broker.
FinPro has years of operational history and it is the trading platform of choice for investors seeking fast and direct access to the world's capital markets.
FinPro uses clever images and graphics to illustrate some of the features it provides on its website. It offers a range of over 80 currency pairs, precious metals, base metals, energies, agricultural, stocks, stock indices and ETFs with most competitive spread.
Accounts
The FinPro ECN account gives traders direct access to some of the world's deepest liquidity pools with fully transparent trading costs.

FinPro Trading Liquidity
All ECN accounts feature cutting edge infrastructure that allows traders to benefit from flexible leverage up to 200:1, trading from 0.01 lots and our advanced algorithms that route trades with lightning fast execution speed.
There are 7 different accounts at FinPro to match the needs of novice and experienced traders.
The Micro account is designed for traders new to the Forex market and those trading smaller volumes, as it requires a low initial deposit of only $100 and a minimum trade size of 0.001 lots.
The Premium Account accommodates the experienced retail traders. A key feature is the flexibility in position sizing. The limit for a single trade size is 60 lots. The opening balance is $500 and a minimum trade size is 0.01 lot with trade size increment remains flexible at 0.01. The Premium Account uses the FinPro Station platform as well as the FinPro Web and any of the available mobile trading platforms.
The FinPro Trading VIP Account is for traders trading with a minimum transaction size of 0.1 standard lots and a starting balance of $10,000. The benefits increase with the more volume transacted and can be asked for on request. A personal dealer is assigned for VIP Account Holders and there is no limit to the total trade size.
The Pamm account are for those who have been trading for a long time and think they have what it takes to become a portfolio manager. Holders of this account can offer their clients additional benefits such as Trade with a regulated broker tighter spreads on more than 100 currency pairs, fast execution, daily statements and 24/7 report access to reports.
There are two Islamic account types available that replicate the FinPro Micro and Premium accounts but with the key feature of no SWAP being applied.
A demo account is available to all those who need to practice their trading before putting their funds at risk.
Bonuses and Promotions
There are several bonuses offered by FinPro.
The 100% Initial Deposit Program is intended to increase the trading volume of a client's accounts. If all requirements of this Trading Bonus program are met, the bonus sum placed in your account can be withdrawn without any limitations or restrictions.
The 30% Rescue Bonus Program is designed for traders who want to protect accounts from periods of drawdown. This Bonus can't be lost and used as additional margin. Our 30% Rescue Bonus will only be available for a limited time. It applies to deposits over USD 50 and the maximum cumulative bonus is $3,000.
Education
Educated traders are important to FinPro and there are many features that help keep them informed. A list of trade ideas is posted on the website as are daily news reports informative articles.
In the technical analysis academy, there are a dozen different lessons on various graphs, charts and patterns which cover such unique items such as Doji Star, Auto Trend Lines and Shooting Stars.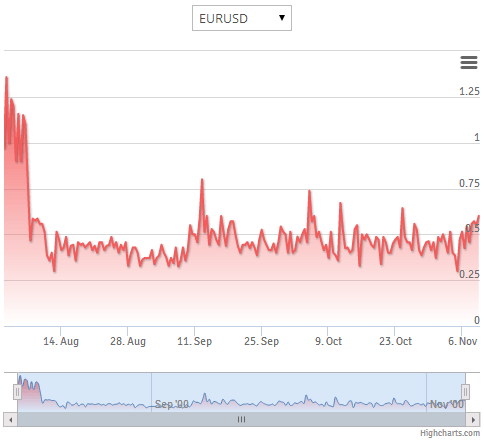 FinPro Trading Charts
In addition, there are introductory courses on major indicators including MACD and Oscillators.
Deposits/Withdrawals
Funds can be deposited in accounts via bank wires, credit and debit cards as well as Paypal and Skrill. All funding is done automatically without any commissions or fees.
Withdrawals are made using the same methods.
Customer Support
Traders can reach FinPro representatives via email and telephone to their London, UK office. Chat is available during trading hours and is quite responsive.
Conclusion
Expertise and commitment to technology and customer service seems to have worked well with FinPro as it has enabled them to offer their trading experience to their trading community and to develop multiple trading platforms to meet our clients' needs. Their wide choice of different trading accounts is an indication of how they cater to traders will all levels of trading experience.
Back to Top
Features
There are many outstanding features at FinProTrading but the choice of different trading accounts stands out from all the rest. It is not often that we find such a wide range of trading accounts offered by Forex brokers and it certainly makes a statement to would be traders that FinPro is keen in attracting all types of traders. The choice of different trading platforms which include the most popular MT4 and ZuluTrade platforms is equally commendable.
Back to Top
Platforms
FinPro Trading offers various leading platforms including FinPro Trade Station, FinPro Trade Station Web, Finpro MT4, Finpro ZuluTrade.
FinPro Trade Station
FinPro Trade Station is a modern era trading platform designed to match the demand of traders around the globe. The platform enables you to get fast and secure access anywhere and anytime in the world. It provides traders with in-depth analysis of stocks with modern and sophisticated charts and over 1000 Forex instruments all with a single platform.
Along with Trade Station, Finpro is also providing its clients with a binary option platform where the traders can easily make money with minimal time and capital.

FinPro Trading Trade Station Platform
Trade Station Web
Trade Station Web allows traders to access the markets from any computer with internet connection. You are not required to download software and our web platform works on Windows and Apple computers. The Web version of this platform functions in the same manner as the desktop version.
MetaTrader 4
FinPro offers MT4 platform, the world's most popular and widely used Forex trading platform. FinPro MT4 is a user-friendly trading terminal and offers wide range of charting tools as well as the ability to completely automate trading. known for its capabilities to run thousands of automated strategies known as Expert Advisor (EA), the MT4 trading platform allows traders to enhance their trading experience by back-testing them. And with built-in programming language, clients can add additional functionality to the trading platform, including trading strategies, scripts and indicators.

FinPro Trading MetaTrader 4 Platform
FinPro Connect
FinPro Connect is a powerful cross platform social trading platform that is backed by ZuluTrade. The idea behind ZuluTrade isn't entirely new, but what is revolutionary is the delivery. ZuluTrade lets traders pick and choose from a vast range of Forex trading strategies, which can be used to build up profitable and diversified portfolios.
Trade signals are provided by top traders which can be manually generated or others are entirely software generated (EA-Strategies). The traders that support automated trading such as Expert advisors will have this marked in their profile description. Zulutrade allows traders to "Piggy back" some of the most successful Forex traders around the globe and to customize trading parameters to meet their investment goals.
Back to Top
General Information
Company Information
Broker's Name :

FinPro Trading

Headquarter :

Canada

Regulation :
Account Information
Type of Broker :

Market Maker

U.S. Clients Allowed :

Minimum Deposit :

$5

Maximum Leverage :

1:500

Commissions / Spreads :

Commissions

Account 1 :

Micro

Account 2 :

Premium

Account 3 :

VIP

Account 4 :

PAMM

Demo Account :

Islamic Account :

Segregated Account :

Managed Accounts :

Institutional Accounts :

Deposit Options :
Withdrawal Options :
Instruments Traded
ETFs :

CFDs :

Commodities :

Metals :

Stocks :

Oil :

Gold :

Binary Options :

Indices :
Trading Platforms
Type of Platform :

MetaTrader 4, Other

Platform Languages :

English

Trading Signals :

Charting Package :

Market Analysis :

Chart Trading :

Automated Trading :

Scalping :

Hedging :

Mobile Alerts :

E-mail Alerts :

Trailing Stops :

Guaranteed Stop Loss :

Guaranteed Limit Orders :

Guaranteed Execution :

One-click Execution :

OCO Orders :

Interest on Margin :

Web-based Trading :

Mobile Trading :
Customer Support
Website Languages :

English

Support Hours :

24/5

E-mail Support :

SMS Support :

Chat :
Pros and Cons
Wide Choice of Trading Accounts
Demo and Islamic Accounts
Choice of Platforms
Back to Top
User Reviews
Did you have a good experience with this broker? A bad one? Tell our team and traders worldwide about your experience in our User Reviews tab. Your email address will not be posted.
Please make sure your comments are appropriate and that they do not promote services or products, political parties, campaign material or ballot propositions. Comments that contain abusive, vulgar, offensive, threatening or harassing language, or personal attacks of any kind will be deleted. Comments including inappropriate, irrelevant or promotional links will also be removed.
Back to Top